---
1. The Monthly Observer-July Issue
In this issue you can read about Imam Abu Dawood, Oral Hygiene, see a summary of the the EC president biannual update presented at the GBM meeting, MCA Girl Scouts, and Connecting with God on the Farm.
We want to thank the businesses who made this possible with their generous sponsorship and encourage readers to frequent them. Please contact president@mca-a2.org if you'd like to advertise in future issues or if you'd be interested in being involved in the publishing team.
[top]
---
3MCA-Sisters' Educational & Social Programs
1) 40 Nawawi Halaqah: Taught by Ustadah Jenn 2nd & 4th Saturdays 

3-5pm.

 No meeting 

June 23rd

 or July 28th. 
2) English Tafseer: **Starts 

Aug 8th

*** Taught by Ustadah Shazia f
rom 

2pm

 every Wednesdays and content repeated at the same time on Sundays.
3) Tea Time: A casual social gathering to foster sisterhood
---
[top]
---
5.
[MCA] Tax Tips: A guide to understanding taxes and the IRS Friday July 27 @6:15pm
Please join the Low Income Taxpayer Clinic from the University of Michigan Law School in a presentation titled "Tax Tips: A Guide to Understanding Taxes and the IRS". We will provide some basic knowledge about definitions, filing requirements, and credits. No prior tax knowledge is required!
Lecture in English but information also available in arabic
Date: 
Friday July 27, 2018
Time: 
6:15 pm
 (After Asr Prayer)
---
---
7. MCA – Free Food Distribution & Volunteer Request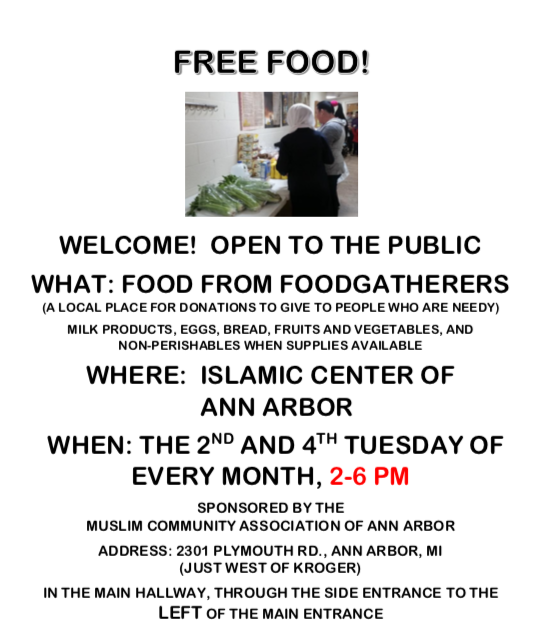 Volunteers Are Needed!
Volunteers are needed from 
1:00 until 3:00
 or 
6:00 pm
 2nd & 4th Tuesdays to assist in preparing the food for pickup and tending to it during distribution. Additional volunteers are needed to deliver food to those who are unable to attend due to a lack of transportation or a scheduling conflict.
Volunteers are welcome on a one time basis or regularly. Community service hours can be granted to those in need.
Please contact Sr. Susan for more information: 732-768-9803
---
8. MCA- Living Islam Class for New Muslim Convert Sisters
Join Sister Rula as she covers the foundations of Islam as well as implementing Islam into our lives.
When: Mondays at 5 pm or another agreed on time
Where: Multipurpose room
To register email Sr. Rula at sisters@mca-a2.org
---
9. 

[MSS] Community Support Clinic
Muslim Social Services (MSS) conducts free community support clinic 2 hours a week to those in emotional distress or need assistance with life transitions (such as a new job, moving to a new city, caretaking, new school, etc…)
The clinic is staffed by a Board Certified Counselor and Child Psychiatrist. The goal of this clinic is to provide assessment and can guide towards resources if further help is needed.
---
---
11. [MCA] Eid Carnival and Bazaar 

August 26

 

3-7pm
Join us for the Eid Carnival and Bazaar 
August 26
3-7pm.
  Socialize and buy delicious food and enjoy the rides and activities.
To reserve a table at the bazaar click here.
To buy a wristband for unlimited rides and activities click here.  (Food will be provided by the MCA).